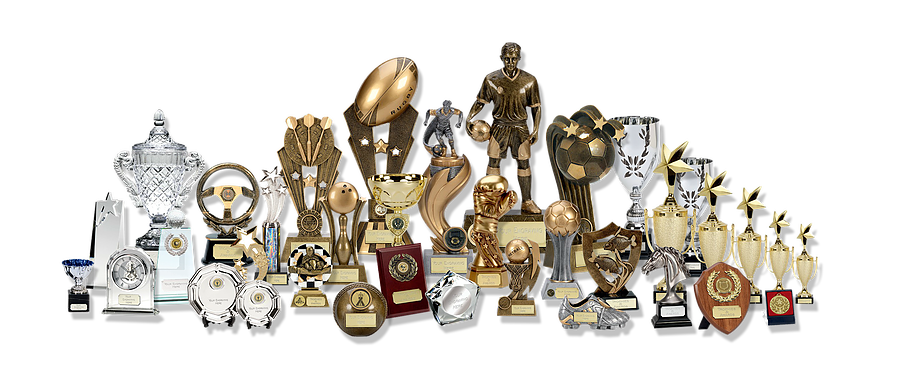 Products and Services
first class service every time
A Family run business since 1984, offering a professional in-house engraving service, specialising in the supply of quality trophies and awards for all occasions.
Situated in Newport, Shropshire Newport Engravers have been engraving and supplying the General Public, Companies and Organisations throughout the UK for over 30 years.
Newport Engravers offer an extensive range of trophies and awards for all sporting events, presentation evenings, award ceremonies, and we can accommodate all of your engraving needs.
Trophies & Awards
We supply and engrave a wide range of trophies, medals, cups, shields and plaques as well as a variety of other quality awards.
There are a wide range of trophies and awards to choose from including:
Medals
Picture Frames
Tankards
Badges
Personalised Gifts
We offer an in-house service transferring images like a favourite family photo onto products such as mugs, cushions, acrylic blocks, photo slates and much more all in full vibrant colour
Whether it's a gift for father's day, mother's day, a birthday or wedding you can choose from a range of quality gifts and personalise them in your own special way
Glass Engraving
We can supply and engrave glass ranging from corporate awards to tankards using the latest sand carving technology, resulting in the highest quality finish.
We provide a first class service every time.
Engravable Gifts
We can supply and engrave gifts ranging from tankards to compact mirrors and by using precision engraving techniques can produce the finest quality finish on many different materials
Industrial Plates & Labels
We supply and engrave a large range of industrial plates and labels supplying Companies & Organisations throughout the UK. We specialise in engraving industrial plates, labels and control panels to your precise specifications.
If you would like to discuss your engraving needs or would like some more information, please do not hesitate to contact us and we will be happy to help.
Key Cutting
Losing keys is an inconvenience for you and your family, especially if you lose them late at night, accessing your property after losing or misplacing keys can prove difficult sometimes impossible without the help of a locksmith, and this can be expensive.
We offer a professional key cutting service:
while you wait
competitive rates
25 years experience
We offer a key cutting service for you, so you can have spares available if ever you find yourself in this situation. You can then give a trusted member of your family or friends the spare set of keys to keepsafe if ever you need them, saving you money on a professional locksmith and the inconvenience that being locked out of your home can cause.
Padlocks
We sell a range of quality Abus padlocks for all purposes. Ranging from the classic Brass Padlock to the higher security Discus Padlocks.
Our combination padlocks are a great security option for general use.
Available in a range of sizes and materials.